Så fort jag öppnar Tiktok-appen möts jag av ett främmande ansikte som försöker förklara för mig att jag är lesbisk. Eller millennial. Kanske autistisk? Eller "that girl", "clean girl". Eller så har jag bara otrygg anknytning. Kanske HSP?
du är inte högkänslig du är bara tjej

— memes om sjätte massutrotningen (@massutrotningen) July 24, 2022
Jag vet inte om ni vet det här, vuxna, men era tonåringar använder Tiktok för att outa era dåliga egenskaper som föräldrar. Det finns en enorm relateability factor i bardomstrauman, och om många kan relatera så får klippet större spridning. Antalet 19-åringar som förklarat diverse allmängiltiga trauma-symptom för mig är jarring. 
TikTok har förresten tagit över facklan från Google som världens största hemsida. A vibe shift if ever there was one.
Forer-effekten
Det här är inte ett nytt fenomen – att slap a name on a generic human experience in the name of viral relateability. Det heter tydligen"Forer-effekten".
Wikipedia beskriver det som ett allmängiltigt och vagt uttalande som därför passar in på vem eller vad som helst. Den som vill kan få det att bli till en sanning, även om det är omedvetet.
Innan var stjärntecken ett bra exempel på det här, men numera känns det som vartannat klipp på tiktok anspelar på samma, omedvetna effekt.
ignorera den här tweeten pic.twitter.com/OHybqzTC0i

— Lauren Sanchez (@badgalmichie) July 25, 2022
Ahagh det går nt att embedda tiktok-videos på det här bloggen tydligen så nu har d tweetats klipp utan kontext från mitt håll
Iof är generationsskillnader, neuropsykiatriska funktionsnedsättningar, kärleksspråk, anknytningsteori och sexuella läggningar lite mer vetenskapligt underbyggda grupperingar än astrologi. Vilket för mig till nästa punkt på agendan: är inte "virability through relateability" bara trauma bonding?
*googlar trauma bonding*
Tyvärr betyder trauma bonding inte riktigt det jag hade tänkt. Jag tänkte att det betydde typ det där starka bandet som kan uppstå mellan två personer som bär på mycket trauma. Ni vet, vissa personer som delar med sig av sitt livs största mörker första gången man träffas som en undermedveten manipulationsstrategi som gör att du upplever en illusion av närhet, så du öppnar upp dig på ett sätt du aldrig gjort innan och bleep bloop ✨✨trauma bond✨✨
Men enligt google är trauma bond bara ett nytt ord för stockholmssyndromet. Så tråkig definition?? Vi har redan ett ord för det fenomenet, min definition var bättre!
ignorera den här tweeten pic.twitter.com/aMBHToubZk

— Lauren Sanchez (@badgalmichie) July 25, 2022
Ännu en jättekonstig tweet från mig!! För bloggens skull!!!
Anyway, jag tycker Tiktok ägnar sig åt min definition av trauma bonding, vilket blir ett fängslande recept i kombination med Forer-effekten och vårt behov av att hitta samhörighet och en definierbar identitet.
Cope culture
Det finns också en självhjälpsvibe i allt det här. Eller som Hailey Nahman beskriver det "cope culture", alltså "hantera/stå ut-kultur". I brist på den samhällsförändring som hade lett till bättre levnadsstandard för många så har vi vänt oss till självdiagnostisering och självhjälpsbeteende. Forer-effekten gör att "individuals can solve social ills through changing our habits or using modern tools and products". Tänk: meditationsappar, cannabis, clean eating-kurer, livsstilskolumner, collagen, anti-depp, psykolog-appar och en tiktok-video med tips på hur man slutar hata sitt jobb så mycket och börja romantisera sitt liv. 
Trend brain
Men det här behovet av att identifiera och definiera saker gäller inte bara vårt egna mående. Det pågår en manisk bearbetning av allt i vår samtid genom kategoriserande och etiketter.
Terry Nguyen beskriver det som "Trend Brain" och menar att det snarare handlar om att kategoriserandet av konsumenten gör oss lättare att marknadsföra produkter mot:
"Anything that's vaguely popular online must be defined or decoded — and ultimately, reduced to a bundle of marketable vibes with a kitschy label."
"It's an attempt at repackaging ideas, attitudes, and aesthetics into identifiable trends — something that can be capitalized on for attention or profit, comprehended, and widely consumed by a mass audience."
Eller som fölande tweet. Att på samma sätt som vi försöker konsumera oss ut ur psykisk ohälsa genom meditationsappar och pilates så försöker vi konsumera oss ut ur dålig moral. Identitet har blivit moral. Trendspaningar är nödvändiga för att veta vad som är inne, ute, bra, dåligt, du, jag, and ultimately, hantera vår omvärld.
Jaha fitta nu har den tweeten tydligen raderats och jag sparade bara skärmdumpar på replys. Originaltweeten var iaf:
"I just think some people in fandom are so insistent that consuming/creating the "wrong" media makes someone a bad person, because they so desperately want to consume their way into being a good person, without doing anything else that takes actual effort"
Och här är ett par replys:
Ett jättebra exempel på det här är också den här texten om att det pågår en "Vibe Shift". Texten är skriven av en millennial som delar in det senaste årtiondet i trender och undrar: vad kommer bli nästa innekultur och "who I was supposed to be in it". Den blev både viral och hånad. Internet svarade: sweaty, du beskriver bara hur det känns att bli gammal och inte ha koll längre.
I mean this sincerely, I think it is bad for your brain to think this much and this way about where you stand in culture. You are just describing getting older, which is fine, and you could not do anything about it if it wasn't https://t.co/KMkkbn1h6R

— Waikiki Wanda (@bulkUSBchargers) February 16, 2022
Personligen älskar jag att trendspana och att se samband där samband inte finns. Så fort jag såg Beyoncés skivomslag så tänkte jag att stora bröst är så inne. Det kan aldrig bara vara att Beyoncé har stora bröst och stora bröst är universellt alltid trevligt.
I vårt förrförra poddavsnitt nämner jag att bara för Beyoncé och Drake har släppt house-inspirerad musik så måste det inte finnas ett samband mellan house och ekonomiska recessioner. Correlation does not imply causation. Men ändå vill vi peka på varje litet samtidsfenomen och se ett samband och innebörd.
Kanske handlar det till viss del om att sökandet och identifierandet av mönster är en inprogramerad överlevnadsstrategi och vi mår bra av, och tycker det är kul att spela memory med oss själva.
Nu känns det som jag börjar tappa tråden lite. Jag vet inte om jag hade en tråd till att börja med? Min poäng är att jag ser en trend :P Och jag ville skriva en metadiagnos av en pågående diagnos-trend. Jag har däremot ingen kur.
Men visst börjar det gå lite överstyr? En tjej kan aldrig bara vara en tjej, hon måste vara that girl, manic pixie, clean girl, cool girl. En person som mår dåligt kan aldrig bara må dåligt den måste lida av ptsd, vara autistisk, otrygg anknytning, adhd, highly sensitive. Omg nu kom jag på en sak. Jag konsumerar ju innehåll av och för tonåringar. Utan att tänka på det har jag slungats tillbaka till att filtrara mig själv och min roll i samhället genom ett coming-of-age-filter. En oväntad konsekvens av influencerskapet. 
Har jag knytit ihop säcken nu? Att man alltid måste ha en avslutande poäng i det här jävla landet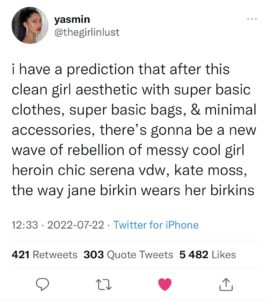 blev jätteglad att ni gillade och delade förra blogginlägget förresten <3 <3 < 3 tack d e roligare att skriva – come to think of it, att göra allt – om man får dripping wet piping hot throbbing girthy sloppy bekräftelse
tataaaa
//Michelle