It's been a couple of wild days on social media, to say the least. It all started when Lupita Nyong'o saw this Tweet:
Rihanna looks like she scams rich white men and lupita is the computer smart best friend that helps plan the scans https://t.co/PhWs1xd3nj

— k (@1800SADGAL) April 18, 2017
And replied with this message to Rihanna:
I'm down if you are @rihanna https://t.co/vwHBWeCbFZ

— Lupita Nyong'o (@Lupita_Nyongo) April 21, 2017
To which RiRi said:
I'm in Pit'z https://t.co/Kz0o3lBEmL

— Rihanna (@rihanna) April 23, 2017
Later explaining Pit'z is her nickname for Lupita…
Lupit'z #duhrrr https://t.co/2InGSqLzDW

— Rihanna (@rihanna) April 23, 2017
Lupita got as happy as the rest of the world upon hearing this:
YASSS! https://t.co/mK0UJJTOjw

— Lupita Nyong'o (@Lupita_Nyongo) April 24, 2017
Next up was writer Issa Rae. As fans suggested she should be part of the project, she was quick to affirm she's ON IT.
@dvrrxll @rihanna pic.twitter.com/XG2WMribGJ

— Issa Rae (@IssaRae) April 23, 2017
Rihanna's funny ass didn't waste a second to follow up on the third member of the fanfic production:
Issa possibility 😳 https://t.co/QrqjSFJ73f

— Rihanna (@rihanna) April 23, 2017
Last but not least, Ava DuVernay jumped on board as director of the movie. Glory:
@MikelleStreet @rihanna Lights set. Camera's up. Ready to call action for these #queens. 👑 pic.twitter.com/NVgqpFeTnu

— Ava DuVernay (@ava) April 24, 2017
Lionsgate tweeted about being ready to make a deal this very week and truth be told, there's probably not a single person in the movie industry who wouldn't want to be part of this set up. So please, PLEASE make it happen.
"Oh I'm definitely going to shoot my shot. This is an amazing opportunity and all credit to Black Twitter."
– Issa Rae in a statement to Vanity Fair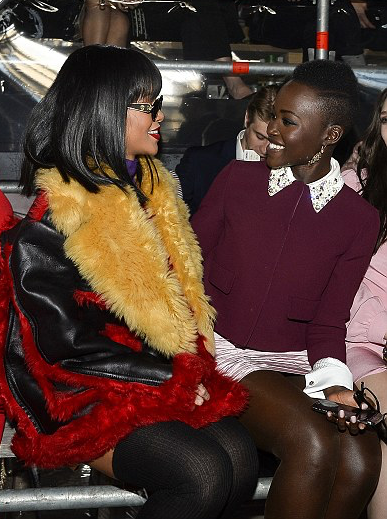 My absolut favorite part of this entire thing is that it's FAN FICTION. It's creatives sitting in front of their computer or on their phone fantasizing about their two fave's starring in a movie together. And not just any movie but one where best friends Rihanna Fenty and Lupita Nyong'o scams white rich men together. It's the full length Bitch Better Have My Money we've all been dreaming of!