Hör och häpna – yours truly har begått grävande journalistik igen, och som vanligt är det ett nytt, livsviktigt ämne som stått på researchschemat. Jag har läst alla (engelska) recensioner som helt vanliga tokar skrivit om den ovanligt tokiga nattklubben Berghain.
Jag har svårt att förstå de som recenserar varenda övergångsställe de kommer över på Yelp i allmänhet – men det finns en märkligare kategori hemmarecensenter: de som vänder sig till sajten för att recensera klassiska Berlin-nattklubben Berghain. Ja precis, den där ingen kommer in men om man faktiskt skulle lyckas ta sig innanför dörrarna kan man käka Club-Mate-glass medan man sänker ner sig själv i en pool av techno på "världens bästa ljudsystem" och droger man tidigare bara kunnat drömma om. Ja, jag tänker att det är så i alla fall – denna grävande journalist blev (ej så otippat nog) blånekad i dörren. Men det är EN DEL AV UPPLEVELSEN, okej?! Det var i alla fall det jag försökte övertala min kompis som var lite störd på att jag lika glatt ropat "HELLO!" och glatt vinkat till vakten på 50 meters avstånd.
Hur som, klubbinstitutionen Berghain har 302 recensioner på Yelp. 302 personer tycker alltså att det är helt rimligt och alldeles värdefullt att lägga en eftermiddag på att skriva ihop en liten review om en technogayklubb. 189 av recensionerna är tyvärr på tyska och eftersom den enda tyskan jag kan är hämtad från den gamla Hasse & Tage-filmen Äppelkriget (dvs vet att "kaufen" betyder köpa, och trodde fram tills jag var nio år gammal att det hette "Deutschneyland") så lämnade jag dem där hän. Istället vände jag mig till de 85 recensioner som var skrivna på engelska. Och så spenderade jag ett par timmar med att läsa dem allihopa! Allt för att du skulle slippa. Men mest för att det var en jävla fest för mig.
Här kommer dem – Berghains nio bästa Yelp-recensioner. Låt oss räkna ner.


9. Här har vi alltså en kille som tycker att helvetet förtjänar medelbetyg. "Ja, det är ju i och för sig HELVETET, men jag gillar ju värme så… Det blir tre stjärnor till dig, Lucifer!"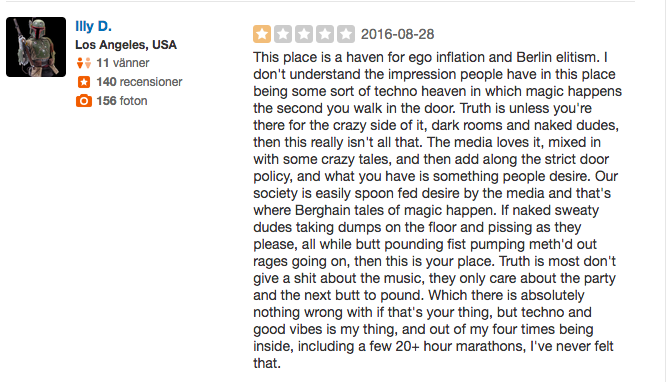 8. "Techno and good vibes is my thing". Dra. Rakt. Åt. Helvete.


7. Alltså jag säger inte att jag har ett fejkat Yelp-konto som "April Z" från San Mateo, USA, men det här var verkligen exakt hur det gick till när jag blev nekad på Berghain. Jag hälsade som det mest lillgamla brittiska barn du nånsin stött på hälsar på fröken första dagen i första klass. Ibland tänker jag att jag kan snacka mig igenom vilken situation som helst. Det kan jag inte. Hur som, trots rånekande från vakten får Berghain två stjärnor från sur-April!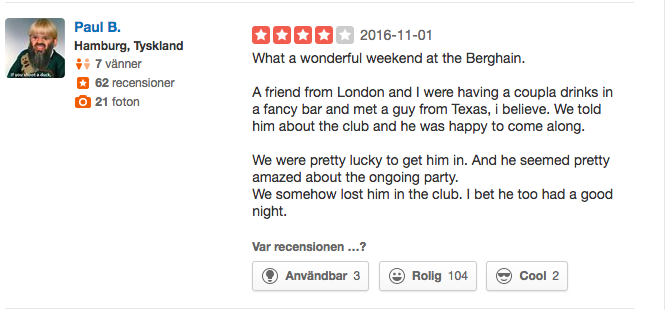 6. Den här är med på listan eftersom jag tycker det är så mysigt att Paul rakt av recenserar en random kille från Texas.


5. Jag vet inte riktigt vad det här betyder men blir alltid fnissig när någon tycker väldigt mycket om bas.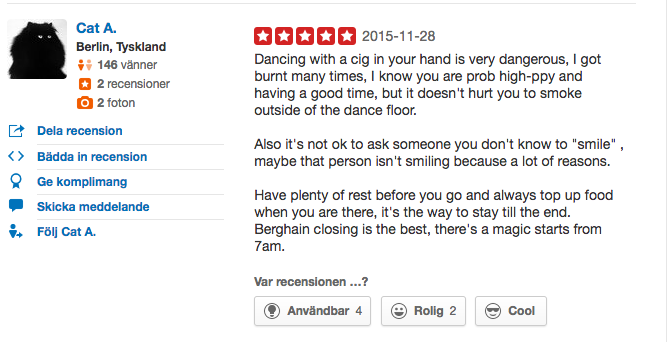 4. Cat A. är för Berghain-yelpers vad Magdalena Ribbing är för den svenska folksjälen eller Lady Leshurr är för grimen. Nån jävel ska hålla ordning också!


3. Se motivering för bidrag nummer fem. Plus att det låter så jävla äckligt att känna basen I PORERNA. Skulle det hända mig hoppas jag vara så långt bort från mina porer jag kan komma.

2. Jag ska inte sticka under stol med det: Jag uppskattar illustrationen. Men jag uppskattar framför allt en annan detalj i den här recensionen: Evan G. tycker att allt med Berghain är det vidrigaste sen skivat bröd (det är inte så bra, okej!!!), med för många snubbar (…) som tar av sig kläder utan att någon upprörs (…), äckliga och förvirrande toaletter och till råga på allt HAR DE INGEN VIP-AVDELNING. Trots det stannar Evan G. i tre dagar! Okej att det kostar 15 euro att gå in (OBS enligt den osäkra källan yelpers), men så snål är du väl ändå inte Evan, att du MÅSTE stanna hela helgen när du tycker det är så kasst, bara för att få valuta för pengarna? Gå hem Evan, ingen gillar dig här.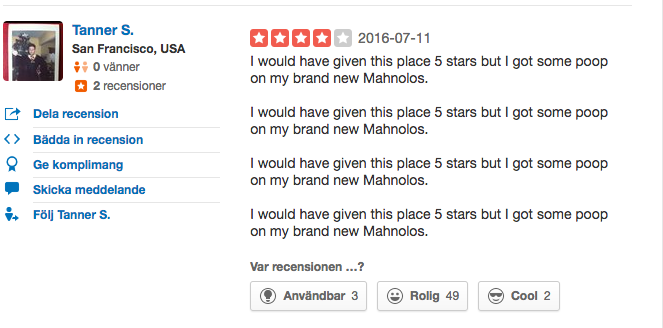 1. Eftersom min, och alla andras, enda relation till Manolos är Carrie Bradshaw får jag sånna fruktansvärda bilder i huvudet av det här. Är vi alla bara lyckligt ovetande om att "Sex & The City 3: The Berlin Ball" snart kommer kränka alla våra sinnen?
Och just ja – om du är en sån som ändå "hänger lite på internet", så minns du kanske att en superlång Berghain-recension blev "viral" *ryser* i höstas någon gång. Du kan läsa den här, men i korta drag handlar den om en snubbe som råkar hamna på Berghain, och som bland annat ser en "slipe and slide" i sperma och blir ombedd att dra ut en plastarm som fastnat i en snubbes ass. Den är förvånande nog TW homofobi men också TW vanligt trökigt snubbskämt. Plus TW fejkad! Om de inte hade varit stalinister hela högen hade jag rakt av RINGT VIRALGRANSKAREN!!!
/Karin
Ps. Blev tyvärr granskad av nån – som lätt hade fått anställning hos Viralgranskarna om det inte var för att han inte var tillräckligt stalinistisk – ang punkt sex. Ni kan läsa kommentar här nedanför. Jag känner mig dum, men icke besegrad. Ge det ett par timmar så känner jag mig säkert besegrad också.
Ps 2. Berghainbilden är tagen av min goda vän "Nicor" på… Wikimedia. Vilken stjärna. Aldrig träffat, men vilken jävla bild på Berghain va!