Heej bloggen hur mår ni? 🥰
Kommer inte på hur jag ska inleda inlägget. Bleep bloop här kommer en lista tankar:
Sexiga tecknade figurer
Som bekant går värden igenom en åsiktskorridor/enlightenment/woke-washing era just nu och tyvärr börjar de liggbara tecknade figurerna stryka med. Det började med Lola Bunny från Looney Tunes och fortsätter med den sexiga, gröna M&Men.
The Pandemic hit Lola Bunny hard. pic.twitter.com/zUg6JruE0n

— Liz Katz (@LizKatzOfficial) March 5, 2021
why did they reverse yassify the green m&m … pic.twitter.com/AnOBpXsTqM

— matt (@mattxiv) January 20, 2022
Om avsexualisering av apan i Aladdin står på tur kommer jag hoppa från någonting väldigt högt.
Apropå det här skulle jag vilja bidra med min åsikt om den rådande debatten om engelska skolans konservativa klädkoder. Som en person som har växt upp på engelska skolor har jag nämligen tolkningsföreträde.
Jag tycker att hela debatten om klädkoder är en slöseri av tid. Det spelar ingen roll om vi försöker woke-washa samhället genom att avsexualisera tecknade figurer eller kontrollera tjejers self expression genom att införa konservativa klädkoder. I slutändan blir det samma sak: osexigt och påklätt. Det är bara olika metoder för samma resultat. Lägg ner era vapen.
Emo-porr
Varje år publicerar pornhub en sammanfattning av deras statistik och varje år studerar jag listorna i noggrann detalj.
2018 var "the most defining search term" (vad nu det innebär) "fortnite", 2019 "amateur" och "aliens," 2020 var det "quarantine" och 2021 var det "hentai." Trustttt att jag har försökt komma på en sigge eklundsk slutsats om vad det här säger om vår samtid men det dånar verkligen av syrsor här inne. Hur kom de ens in i min lägenhet?
Den enda statistiken som stod ut enligt mig var att sökningar som innehöll ordet "goth" ökade med 283% !! med ett genomsnitt på mer än 5 miljoner goth-sökningar per månad.
Skriker vrålar i truly love that for us.
Det är så roligt att samma år som döskallar och blod fick en revival tack vare Meghan Fox + MGK och Kravis, och emopop blev trendigt igen tack vare Tiktok, så sitter folk alltså hemma i sina stugor och söker på emoporr? Vi är verkligen roliga vi människor.
Korv – for the vibes
Min kompis Hanna och jag har under de senaste veckorna utfört en utförlig antropologisk fältstudie via instagram DMs. Vi har nämligen kartlagt en tydligt uppåtgående trend:
Korv med bröd.
Eller som Hanna kallar det, "den nya pandemin"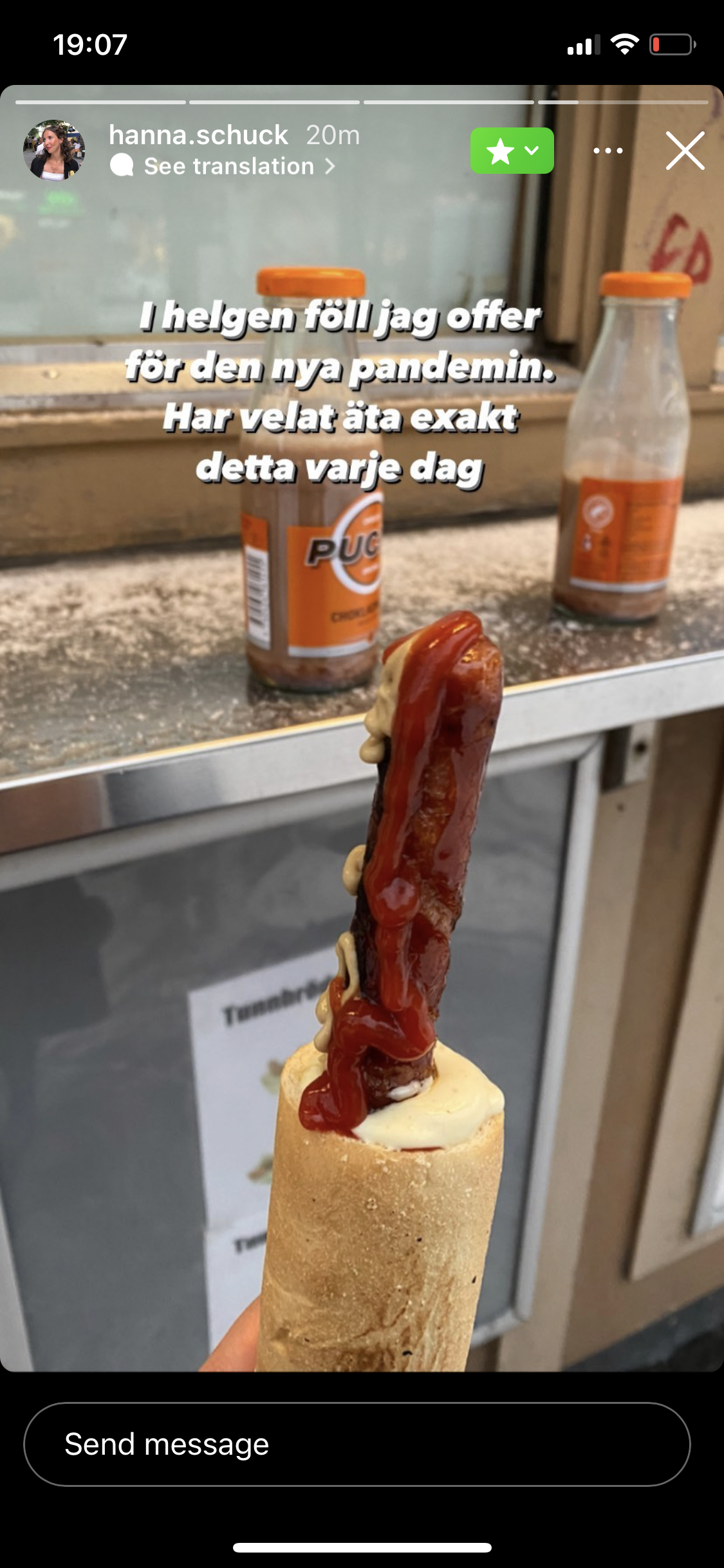 Folk har visserligen ätit korv i alla tider – en tidlös, klassisk föda – men aldrig har det varit lika självklart att instagramma måltiden som nu.
Case in point: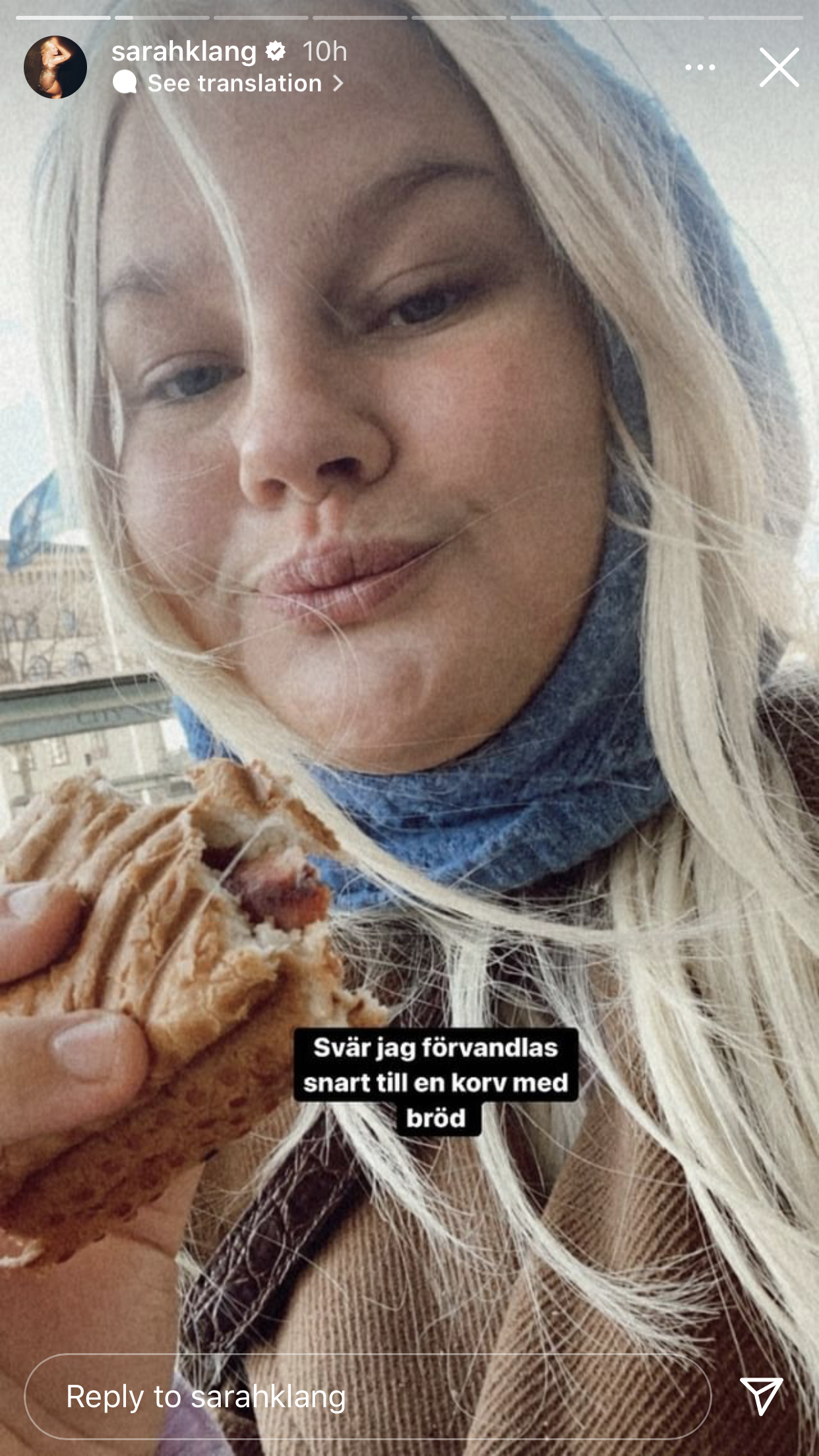 Sara Klang
Well, otroliga fantastiska sångaren Sara Klang, det är du tydligen inte ensam om!!
Lucia Haag
Nöjesguidens resident cool girl Lucia Haag har t ex här lagt upp en slideshow med korvbilder.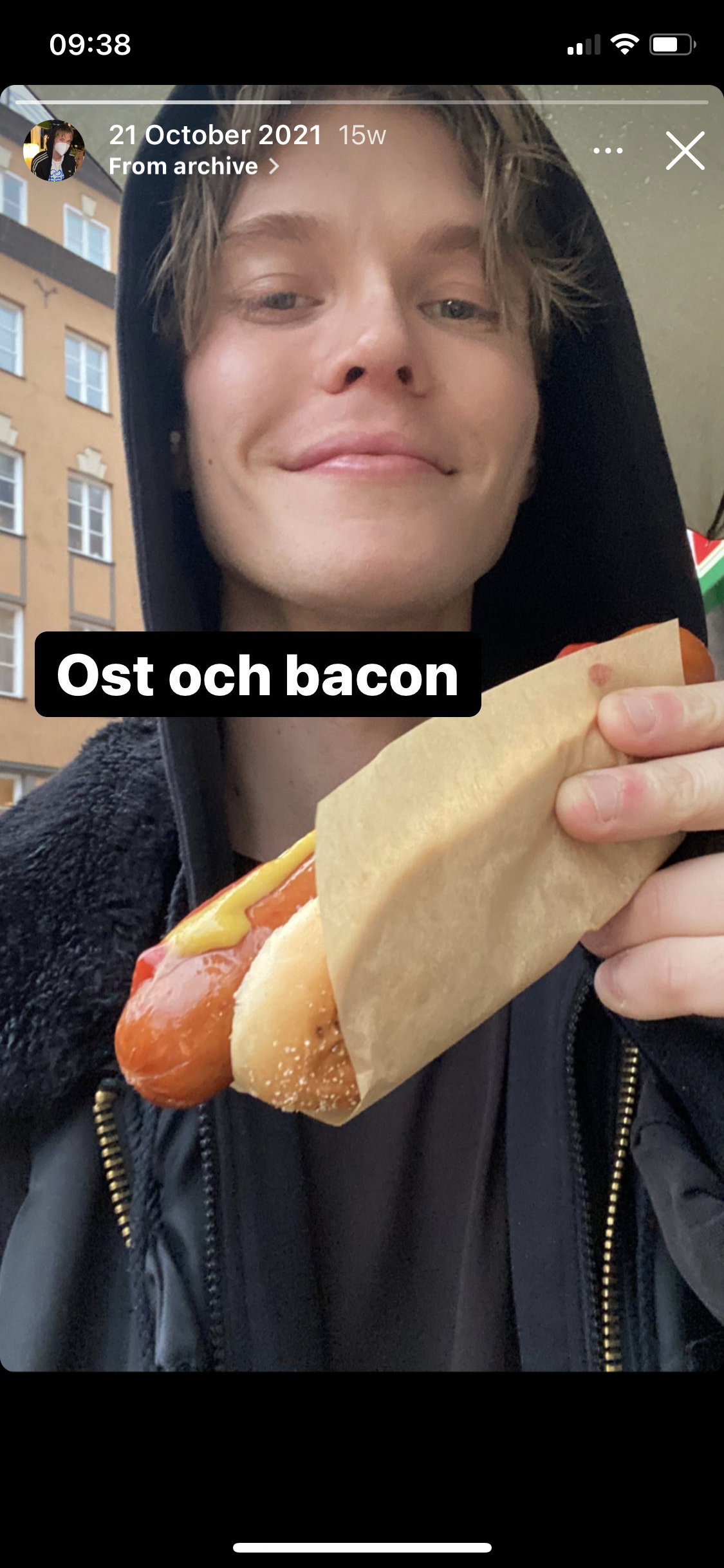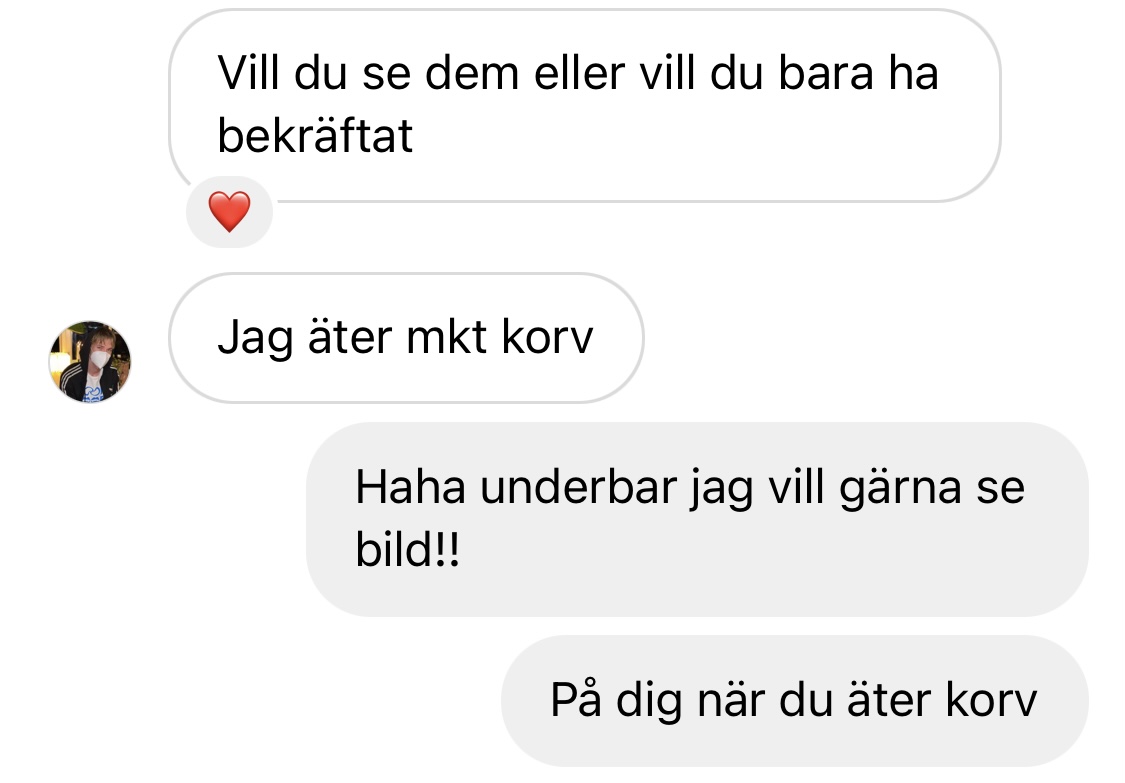 Erik Galli
Erik Galli är inte bara snygg, han är även ett av våra främsta ansikten utåt för korv. Bifogar skärmdump från när jag bad om bildbevis.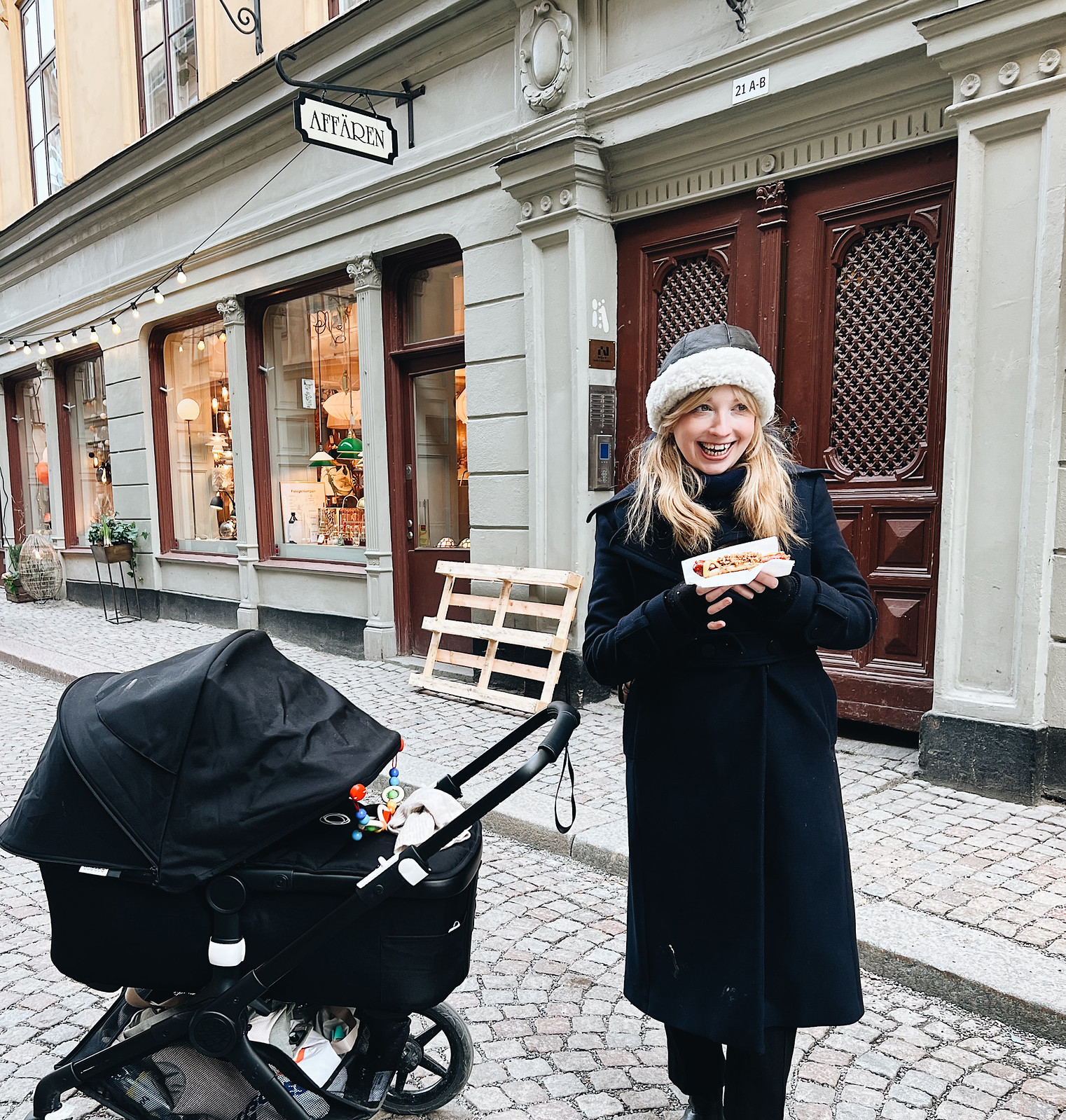 Sandra Beijer
Även om Sandra Beijer möjligen var grundaren av trenden skulle jag vilja påstå att hon kanske är ett undantag i sammanhanget. Framförallt eftersom hennes korvätande gått från någon enstaka instagram-korv till uppemot tjugo korvar per dag? Jag har hört rykten om att hon ställt in alla andra planer för att äta korv på heltid.
Det finns jättemånga fler bevis okeeej men jag går väl inte runt och sparar bilder på folk som äter korv hela tiden.
🌭
Kanske är det bara för att korv är gott och mer estetiskt tilltalande än en blöt wrap. Men jag känner instinktivt att det handlar om någonting mer. Att korven är en symbol för ett större samhällsfenomen. Ett paradigmskifte i kulturdiskursen skoja
Korven kommunicerar något slags tecken på coolhet; att man är fri från klasskomplex och ätstörningar, men självklart inte fattig och tjock. Om du lyckas göra falukorv sexigt har du passerat steg två eller kanske tre i livets coolhets-squid game. Alla kommer inte lyckas. Många kommer dö på vägen. Men de som kan instagramma korv ~for the vibes~ överlever till nästa steg.
xoxo go piss girl
Lyssna på veckans poddavsnitt!! Vi ringer Fanny Klefelt som bekräftar ryktet om att Brad Pitt och Lykke Li dejtar!! Max berättar om när han låg med en främling på ett hostel och jag berättar om när en kille åkte till akuten efter en dejt med mig.