On Wednesday November 14, 2012, when Rihanna revealed the European dates for 'Diamonds World Tour', my friend in Amsterdam messaged me that she would come there on June 23 and 24, in 2013. By the time I read my friend's first messages, I knew that I had to fly from Greece to the Netherlands, so I could finally see Rihanna performing for the first time.
---
The last two days passed and 'THE BIG DAY' was finally here! I woke up and I can tell you that I was never so excited in my life. I got ready as fast as I could but my friend took more time to get ready and we arrived at Ziggo Dome late, just about an hour before the doors opened. I saw so many people waiting in rows, probably waiting there since first thing in the morning, and I realized that we wouldn't be front row. A few minutes after we arrived I saw Alena and I literally ran to her, excited that we would finally meet. I hugged her and I noticed a sticker on her t-shirt saying "VIP Pass". She told me that her, Nat and Sament would meet Rih backstage. I went back to my friend and while I was waiting in the row, as much as happy I was for Alena to finally meet her, I was thinking about how much I wanted this too, and I got a little sad.
---
When the doors opened, and the concert started, I thought that I would try my best to enjoy the show and I wouldn't let anything to kill my vibe. So when the intro of "Mother Mary" started playing and the black curtain fell down, revealing Rihanna to us, I honestly got goosebumps!!! THE WAIT WAS REALLY OVER!!! I enjoyed every single second of the concert, even though people were pushing us; and me and my friend ended up from second row to fourth.
---
In the end of the concert I found my friend Alena and asked her when they would meet Rih. I then went back to my friend, asked her if she wanted me to get her anything to drink and went to the bar. After I got back, my friend Deniz told me that the guys just went backstage to meet Rih. And as much as happy I was for them, I was so sad that I would leave and go back to Greece without meeting Rih. At that time, I shared a post to Instagram saying:
"I'm so sad I missed the chance of finally meeting my fave, after all these years of waiting and waiting for this night. I hope she knows I was here tonight."
When I shared this to Instagram I wasn't expecting Rihanna, Melissa or anyone to read this because the other guys were already backstage and I thought Rih would be with them by then. So a few minutes later, after we had already left the arena, I pulled out my phone and I checked my Instagram. I read Melissa Forde's comment to my latest post saying: "Where are you?" and Rihanna's comments: "Ni**a don't leave" , "I wanna see you!!! ". I started running to my friend, utterly shocked and I literally fell onto her. She got scared and asked me "Elias, what's wrong?" like three times.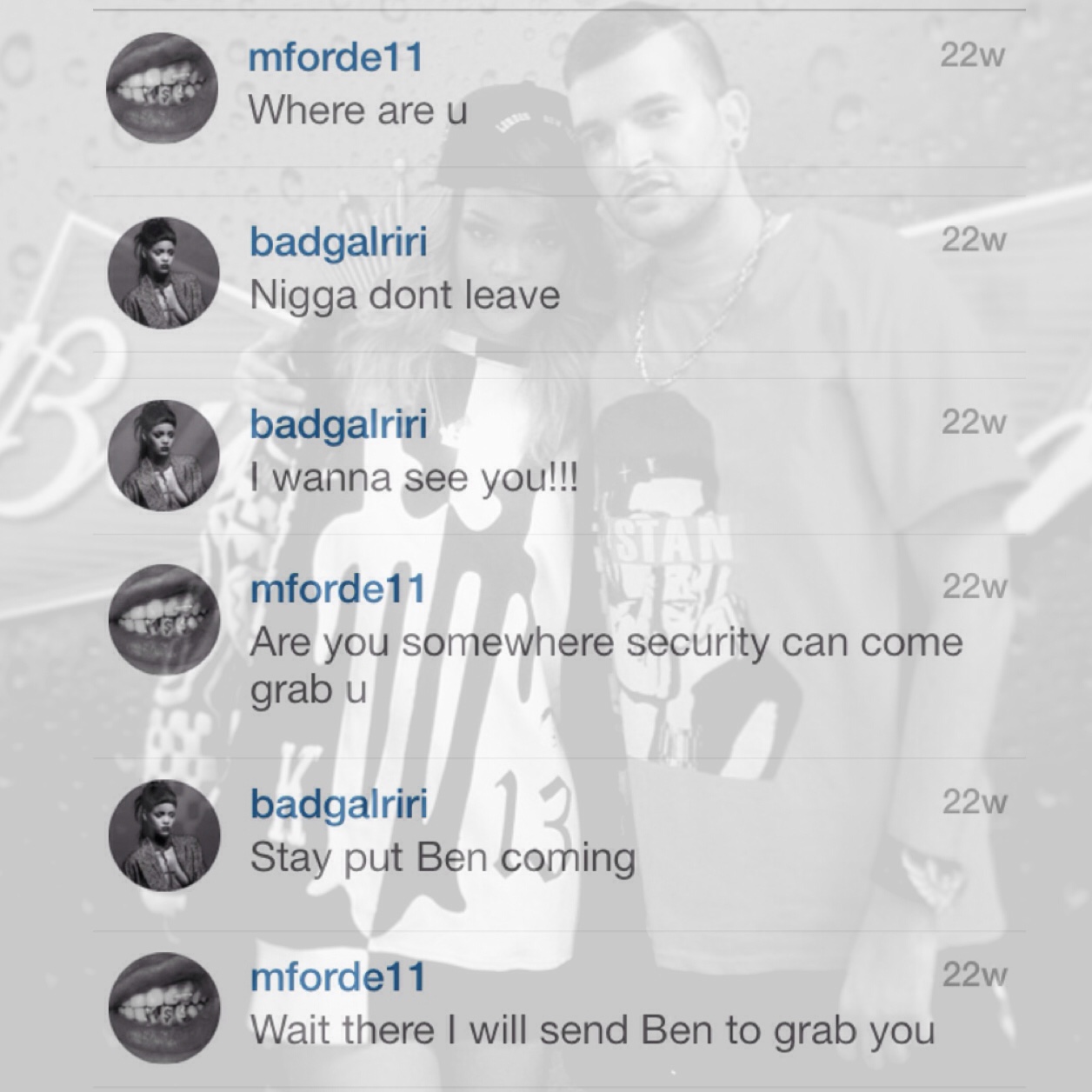 ---
I picked myself up and walked towards the security who were guarding the arena.
I told them that Rihanna invited me backstage and showed them her comments but as I was expecting, they did not believe me. I checked my Instagram notifications again and I read Melissa's and Rihanna's comments telling me to "stay put", "Ben is coming". In the next two minutes security was throwing everyone out and although I was telling them that Rihanna's bodyguard is coming to get me backstage, a man rudely said to me: " I don't care, we have to close." I was forced to walk towards the exit but then I saw Ben, Rihanna's bodyguard, on his way back to the arena. He was just 5 steps away from going through the door.
I ran towards him, avoiding all the security guys, literally screaming his name and then he looked back and waited for me. When I went close to him, we shook hands and he leaded the way for me and my friend.
---
When we went backstage, my heart was beating so fast, I thought it would explode. I saw Alena and the other guys there but at that moment, I needed to calm myself down, so I didn't talk to them. I even drank 4 "Budweiser" beers so I could relax and realize that I was about to meet RIHANNA!
The love of my life was about to come and meet us!!!!!!
---
Me and everyone there were trying to chill. We were talking and laughing and we all were so excited that we would meet our fave! In about 20 minutes after Ben brought me there, everyone in the room, Rihanna's crew and VIP guests, started leaving. In the end we were just 5 people there, me and my friend Deniz, Alena, Nathalie and Sament. We started worrying that Rih might had left the building since one of Rih's bodyguards told us that everyone else had already left.
---
Then something inside me told me to get closer to the door. Everyone in the room was talking and I was standing alone next to the door. I stood there for a few seconds and then I SAW HER! I saw Rihanna coming towards me and I swear, she was STUNNING! My heart dropped! She hugged me and I whispered to her ear these words: "Oh Rih.. Can you listen to my heart right now?!".. I think about me telling her this now and I'm laughing! It sounded really stupid! Lol.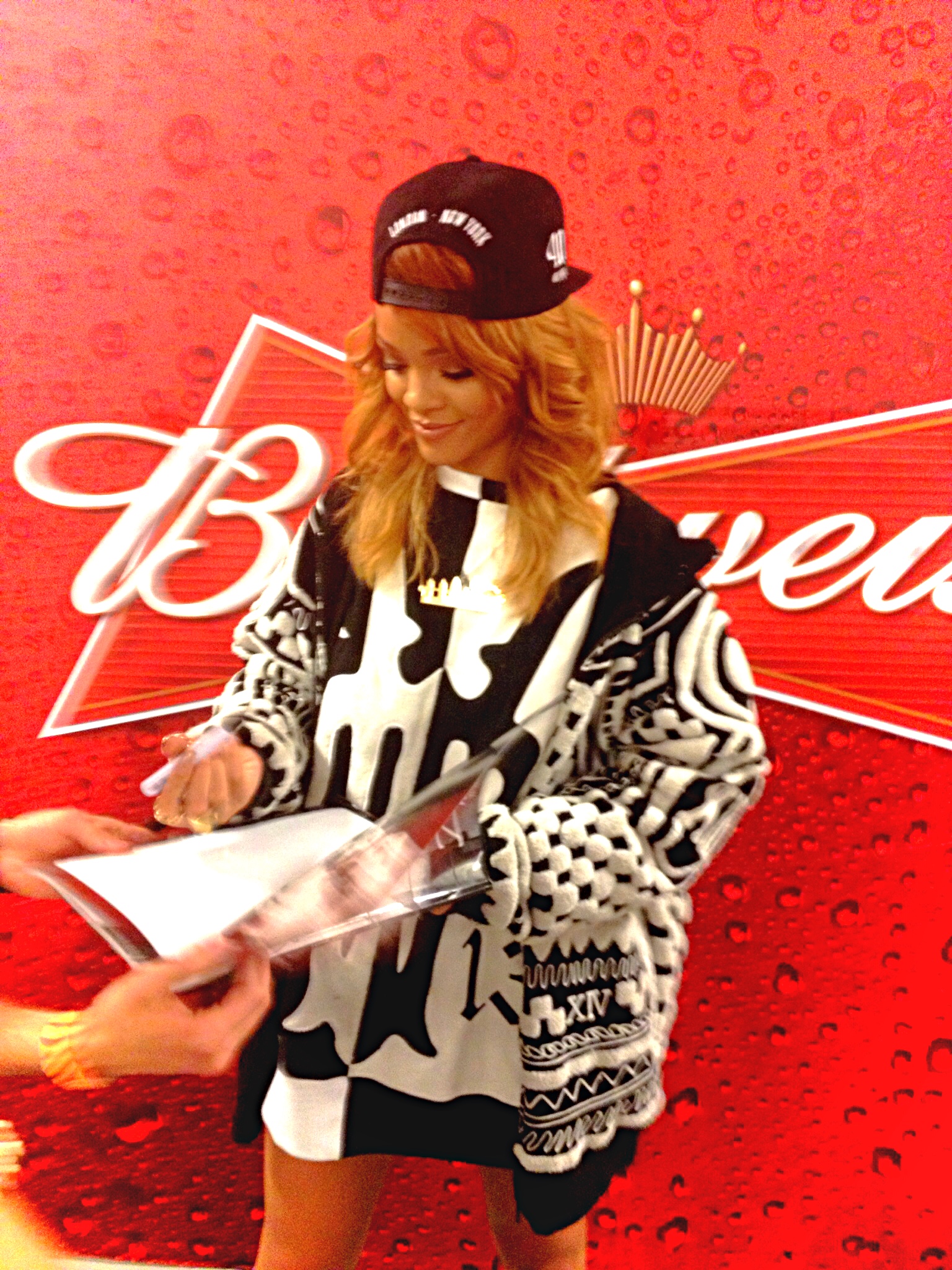 ---
She was smelling and looking like an angel! She's literally the most beautiful woman I've ever seen in my life! And trust me, I'd say this even if I wasn't such a die hard fan! After she hugged everyone else, I got close to her, and she told me with her sexy voice and cute bajan accent:
"Oh my Goddd!!! You're so handsome!!! Soo cuuuute!" (still can't believe this actually happened)
---
I think I never was so happy like I was at that very moment! These words coming from my fave meant so much for me! After this, I told her that I was dreaming of this night for more than 7 years, since I was a 14 year old little boy! I told her that I was in the USA back in 2006, to see my family there, and that we went to a casino in Massachusetts, to take a look around the shops there. And she so happened to have a concert there, on the same day we were there! But as much as I wanted to go, I was underaged and my aunt who was my guardian didn't allow me to see her. After I told her this story she gave me a hug and time really froze for me.
---
She took more than 30 minutes of her time for us, her fans, her NAVY. She took pictures with us and we were just laughing and extremely happy that we were with our fave! I was feeling ECSTATIC!!!!!!! It was like I was in a dream! My dream finally became a reality!
---
I want everyone to know that I'm deeply grateful to Melissa and Rihanna for taking the time to make my dream a reality! I want you guys to be proud of our fave, of our bad gal RiRi!!!!! No one else in this business takes as much time for their fans as Robyn Rihanna Fenty!